Scroll down to see what people are saying about our presentation.
(You'll glean how-to tips from the reviews.)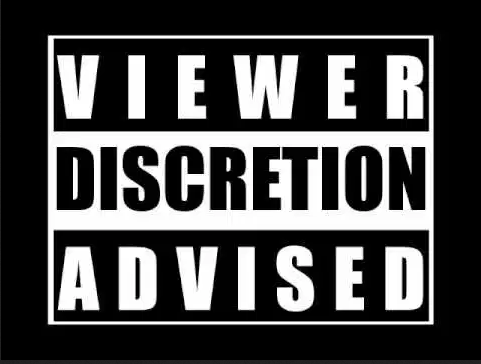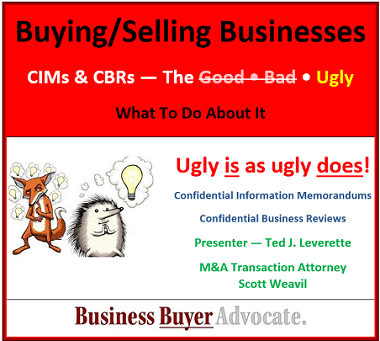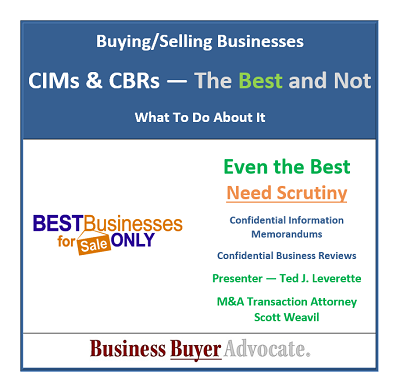 Because of the controversial nature of the CIMs
and our evaluation of them,
you are invited to show us your perspective:
Email your comments and suggestions to Ted Leverette
Sometimes it's a living nightmare for searchers
trying to find worthwhile businesses for sale.
Mostly, searchers are underwhelmed with the first presentation package,
which supposedly represents the businesses for sale.
Too often, CIMs and their ilk are so deficient
or misleading that searchers want to walk away.
And sometimes that's the best decision.
And sometimes it's not.
We reveal the good, bad and ugly.
And the best-of-the-best.
What searchers/buyers want to see.
And how to screen the offerings.
What to zero in on. Handling touchy issues.
We show how to bridge from CIMs
to due diligence and negotiations.
Keep in mind:
It will take a long time to do a deal unless you know, upfront,
how to handle presentations, which upon first impression repel you.
Beware of CIMs and CBRs
Yes, it's rare for searchers to see, upfront, well-written, finely-crafted CIMs/CBRs
that adequately disclose information about businesses for sale.
See and listen to how I dissect some of the worst and one of the best-of-the-best.
Use them to judge the scope and transparency of what brokers/sellers
present to influence you when it counts most: Upfront.
M&A transaction attorney Scott Weavil is our special guest.
The best CIMs/CBRs do quadruple-duty:
Test, upfront, the broker/seller transparency;
their willingness to disclose what's most important.
Roadmap due diligence.
Foundation of business plan, which you'll need for financing.
Foresee transition from seller-to-buyer.
The CIM I reveal, in the recording of my webinar, does it for you.
So you can focus on verification and evaluation.
You won't have to waste (as much) time and money
trying to pry information out brokers/sellers.
But beware. Don't let the shine blind you.
Is it lipstick on a pig?
---
Here's what people are saying:
(More will appear below as we receive them.)
The CIM was a great example. If only every deal had one like it that prompted many of the right questions. Very helpful. In fact, a lot of brokers would be happy for buyers to have less info than in that CIM at the conclusion of diligence.
―Attorney
I see why brokers and sellers won't like some of what you say. And that's why everyone thinking about buying a business needs to hear you. Let's hope your effort to educate causes sellers to be more transparent and truthful. And brokers to prepare better-described and better-written offerings.
―Searcher
As you went through the CIM, you explained the good points, the good illustrations and pictures and also pointed out details that either needed improvement or were lacking pertinent information. The presentation was well-done and a fair assessment. And, a good guideline for brokers to consider. It was a nice walk through.
―Searcher
I found this to be VERY valuable. I loved that you shared the CIM and that you untangled the pieces and gave comments on exactly what to look for. I only have requested a couple from brokers, and nothing I have received has been this extensive.
―Searcher
Many thanks. It's obvious that you know your subject inside out and you covered a lot of valuable advice for a potential purchaser of the business. You also gave me some additional thoughts on how my services can be helpful for purchasers of a business. It was an excellent way to spend an hour and very valuable.
―Business Advisor
The CIM format you showed was above and beyond anything I've seen. I have seen long templates before though and they are almost always computer generated for the most part. I've caught several mathematical errors because of this and let the brokers know to change them. I'm glad you mentioned the add-back of salary because I just had another broker do this. That was one of the questions I wanted to ask – calibrating down to reality the broker and owner. That is a necessity, and it is difficult to know when that must occur. No one wants to waste time.
―Searcher
Definitely worthwhile, as usual. Seeing an example of a professionally built and presented CIM sure does shine a light on what a person could expect, versus what you typically see. If I were a seller, this is exactly how I would want to position my business for sale. I can imagine the value this would provide the buyer as well as their entire team assisting in the purchase. Particularly the case of a DIY buyer with an inexperienced banker, accountant and lawyer, this adds so much value. As a buyer the information you receive contained in that package adds an incredible amount of validity to the seller's proposition and answers many of the questions you'd want to ask. Certainly you will want to validate the claims but for a the right business, their effort is likely to speed up the entire process or getting to offer, and closing a deal. Interesting guidance on the disclaimer that the broker has no liability. The repercussions to that agreement, particularly if the seller should provide guidance with respect to any adverse change in business yet without any true responsibility to disclose such info, was interesting; a detail that many people could surely miss while contained in such a professional and polished document. This detail alone is proof that going it alone, can prove costly.
―Searcher
I thoroughly enjoyed the presentation and the identification of the issues in the CIM. I loved the way that you commented on each of the issues within the page and your comments were succinct. I appreciated that the CIM you chose was one of the better ones. I have seen a good number that are really pitiful.
―Searcher
The presentation was well done. Your straight forwardness saves me a lot of time. This presentation is probably well-suited for individuals who have more than a cursory knowledge of the process; it would have been over the head of a newbie. Your C.E.L.B.S. acronym is valuable insight.
―Searcher
Having a checklist approach on due diligence (the facts behind the puffery) is great. Very informative. Very comprehensive (each deal presents its own nightmares). Having your broker do what Ted suggests is a real advantage. For lawyers, bottom line is: buyers should have no binding obligation before signing purchase agreement, except an NDA (limited by term); on the other hand, I don't expect sellers to be bound by reps and warranties until LOI—even then bound only by an exclusivity clause and mutual NDA, but not reps. So, I am not bothered by disclaimers, unless they waste the buyer's time. In fact, they provide targets: CIM says X, so tell me about X.1, X.2.  Just off the top of my head, it seems that whether a CIM is helpful or unhelpful depends on the diligence of the intermediary that produces it, and that intermediary can be limited in what they can do based on the level of sophistication of the selling company in terms of having and being able to communicate the information most relevant to buyers. By the time we lawyers see CIMs, the buyer has decided to invest in a lawyer, and at that stage CIMs do help inform us and allow us to focus on prioritizing diligence questions. But I sense that your webinar is dealing with the preceding phase, when the buyer is evaluating CIMs as part of the process of screening a number of target candidates. I suppose lawyers could be useful at that stage, but unless we regularly represent serial buyers, we often aren't usually brought in at that stage.
―Attorney
---
Free monthly e-newsletter:
If you like the kind of information you see on our website, please subscribe. We'll also invite you to our  continuing education events.
After you subscribe, you will receive links to our free reports and audios as we produce them.
We do not disclose your email address or any other information about you to anyone outside our company.
Here's a link to an earlier free monthly e-newsletter for advisors and people buying, selling, financing or improving small and midsize businesses: https://conta.cc/3u0rgWO
Breaking news: SBA guidance on PPP affects business buyers and sellers – Plus tips for M&A
Click to subscribe to our monthly e-newsletter.
Hire Business Buyer Advocate Ted Leverette to educate and guide you through our Street-Smart 22-Step Acquisition Sequence ™. It integrates five services essential to buyers: Search, due diligence, financing, valuation and dealmaking. We are not a business brokerage. We do not sell franchises or any kind of business.
---
Increase your competitive advantages with my books on Amazon.
Never forget your lost income opportunity.
Irrationally deferring an M&A transaction presents at least two kinds of (avoidable) potential losses. (1) Missing out on buying the best opportunity that you're going to find. (2) Lost income opportunity, which is what you would have earned every month longer it takes to complete your deal.
Tip: Search more effectively to find and complete better deals sooner.
Improve your search and dealmaking:
Schedule an hour of coaching with Ted Leverette, The Original Business Buyer Advocate ®
Email Ted J. Leverette, The Original Business Buyer Advocate ®. "Partner" On-Call Network, LLC

---
---
Disclaimers
The opinions Ted Leverette expresses are solely his own and do not express the views or opinions of our colleagues or the professionals with whom we network. Likewise, the opinions and advice appearing on or accessible from this website, attributed to others, are theirs and may not be consistent with Ted Leverette's.
Your access to, use of and reliance on our website and services and content accessed through our website and services is entirely at your own risk. Our website and services (including, without limitation, the website, programs, services, forums and content accessed through the website, programs, services and forums) is provided on an "as is" or "as available" basis without any warranties of any kind.
All express and implied warranties (including, without limitation, warranties of merchantability, fitness for a particular purpose, and non-infringement of proprietary rights) are expressly disclaimed.