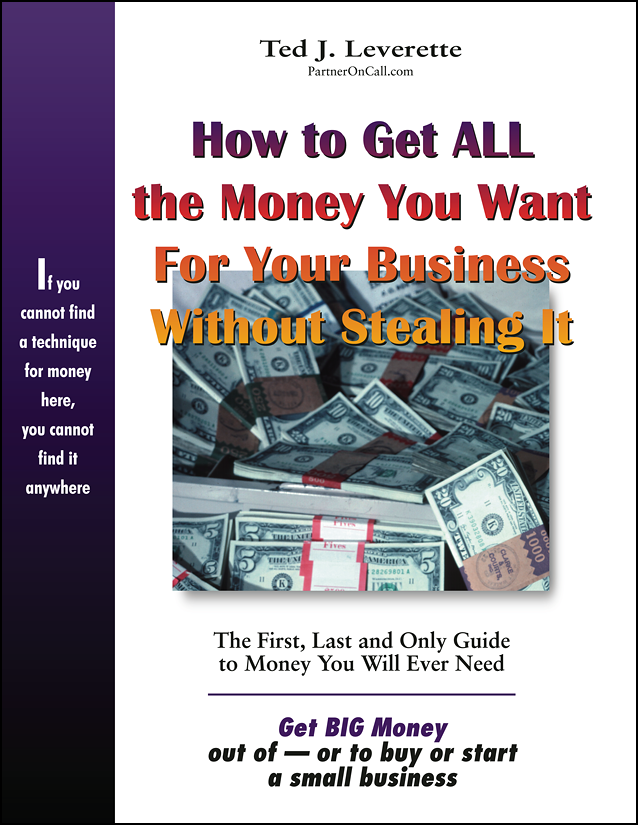 Amazing, I read down the list and saw many of the techniques I have used over the years and currently.
Some, or most, probably came from reading your tips over the years. Good work and very helpful to those of us who follow you. I currently have investors interested in our technology company and asking for financial performance history. You have given me a well-defined yellow brick road to follow. Thanks!
Dave McLeroy, CEO, Owner, AuditorSoft, SaaS Solutions
Ted Knows More Than Me. There, I Said It
I've been a small business owner for 25 years, with the last 15 being immersed in the "sell a small business" space.  It's been a passion and a discipline for me, and I know I've learned a lot.
I was just reminded how much more I have to learn.
I started reading the section called Starting, Buying or Selling a Business in Ted Leverette's book How to Get All the Money You Want For Your Business Without Stealing It.
In a few short minutes I read insights that I know would have saved deals that I saw die in the past. At Exit Oasis we stress that small business owners need to Learn to Leave. Ted's book can help you do that. Real world items, clearly explained, that provide direct value.
       Mike Finger, exitoasis.com
I hope all is well and thank you for all the information that you offer. I purchased two of your books (How to Buy the Right Business the Right Way and How to Get All the Money You Want For Your Business Without Stealing It) when I started buying business and was looking for more information. It gave me more insight into where I could find a higher number of possible businesses to purchase and how to get the funds to do so. At least once a quarter I read through the points that I highlighted as reminders of what to do and warnings of what to look out for. It definitely helped in giving me more confidence to get more deals done. I look forward to your next book you put out.
       Nathan Edelen, Business Investor
---
Lenders and investors use the ideas in my creative financing book to build goodwill with business applicants they cannot fund. Instead of merely "no" they say "maybe the ideas in this creative financing book will work for you."
How to Get ALL the Money You Want For Your Business Without Stealing It
This booklet, 120 Financial Lifelines for Small Businesses, is a selection from our more comprehensive book: How to Get ALL the Money You Want For Your Business Without Stealing It. (Don't buy both books unless you intend to.)
BONUS: Contact Ted Leverette (after you read any of his books) to schedule a free and private teleconference to discuss anything related to dealmaking.
---
REALITY
82% of businesses failed because they experienced cash flow problems;
77% of small business owners who apply for a bank loan from a big bank get rejected . . .
. . . according to a recent article on fundera.com: What Percentage of Small Businesses Fail? And Other Similar Stats You Need to Know.
You could rob a bank or read this creative financing book.
It explains 500 proven ways to get cash for a business you own or want to buy.
The "Internal Financing" section has more than 100 business cash flow improvement projects, many of which are quick and easy to implement – and each one adds cash to the bottom line.
Business brokers, buyers and sellers say the ideas in the book enabled them to close the purchase/sale of a business or franchise, which would not have occurred if not for this book.
In business you either use your money or other people's money. This one-of-a-kind, highly regarded book is necessary, not discretionary.
Topics
Juicy Beginning
Debt
Equity
Internal Financing (100 business improvement projects)
Starting,  Buying,  or Selling  a Business
Preparing  to Raise Capital
Afterword
We can help you and your advisors deploy the tactics and strategies this book explains.
---
100,000 people have benefited from Ted Leverette's books.
Some have been sold by Amazon.com, and from this website, and (using affiliate marketing channels) distributed to the customers and clients of over 100 professional, business, and governmental organizations.
---
BOOK REVIEWS
"Ted is a knowledgeable source of information on all aspects of business."
Tom West, President, Business Brokerage Press
"Even people who know some of the points gain by learning even one new approach. Well worth the cost."
Wally Stabbert, President, Institute of Certified Business Counselors
"If there was a "Pulitzer" for the small businessman, you have earned it! A must read for all business owners or those preparing to start or buy a business."
Anne R. Whitney, KeyBank, VP, Private Banking & Investing
"Contains techniques that even I, Ms. Know-It-All, had not thought of. We see businesses on the market with stifled growth as a result of cash flow problems. The book illustrates this need never be the case."
Lori King, CPA, CEO, Business Exchange Center, Inc.
---
Give the gift that keeps on giving!
This book is a great personal or corporate gift! Purchase a copy for each of your clients and each of your best friends in business. Don't forget your most important professional advisors. Think about it. This book costs less than just about anything else worthwhile that you could give to show your appreciation. Who wants another consumable such as a bottle of wine or fruit basket? This book keeps on giving, because its owners can put the information to use to benefit themselves, and to benefit you!
Improve your search and dealmaking:
Schedule an hour of coaching with Ted Leverette, The Original Business Buyer Advocate ®
---
Ted Leverette refers prospective clients to advisors, brokers, appraisers and sources of financing who subscribe to his monthly free e-newsletter AND also connect with him on LinkedIn. It's how we get more insight into each other's capabilities.
Ted J. Leverette
The Original Business Buyer Advocate ® Since the 1970s
"Partner" On-Call Network, LLC
Click to email your comment on this posting or to contact us.