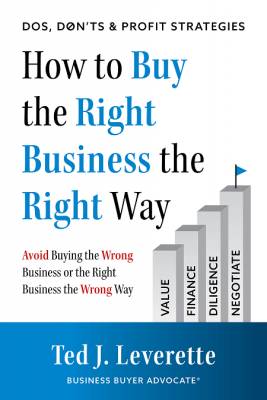 How to Buy the Right Business the Right Way—
296 Dos
273 Don'ts
93 Profit Strategies
203 Negotiating Tips ™
Paperback and Kindle editions:

---
2-Minute Video Reveals What The Savviest Searchers Do
I don't believe the how-to books and seminars pitching buy-a-business for $1 or no money down.
It's not that those get-rich-easy-with-no-risk ideas don't have any value, but it could be a very long time before buyers achieve a worthwhile deal using the techniques. The ideas are rarely practical for first-time buyers and especially people without big-time business experience.
Read my book if you're looking for sensible, proven ways to buy the right business the right way.
Ted's book, "How to Prepare Yourself and Find the Right Business to Buy," gives you the no BS high-level look at the tools, personality and approach you will need to buy/sell WINNING small and midsize businesses. Ted is a mentor at heart, who's spirit and smile are contagious. His willingness to share his expansive knowledge helped keep me on the right track toward my goals.
— Phillip Kangari
The information is sorted into these sections, which are the sequence of events for most buyers (after they've prepared themselves to search for opportunities and they are communicating with business sellers):
Topics
What's Possible?
One Word Distinguishes Successful Business Buyers
Pros and Cons—Interviewing Seller's Employees
Due Diligence & Evaluating Companies
Pricing / Valuing the Company
Financing Your Acquisition and the Company
Negotiating and Dealmaking
Closing the Sale / Purchase
When You're in Charge
Bill of Rights for Buyers of Small & Midsize Businesses ™
272 pages
We can help you and your advisors deploy the tactics and strategies this book explains.
---
100,000 people have benefited from Ted Leverette's books.
Some have been sold by Amazon.com, and from this website, and (using affiliate marketing channels) distributed to the customers and clients of over 100 professional, business, and governmental organizations.
LISTEN to my 5-minute interview with a searcher whose deal cratered:
You'll hear:
why he (after devoting considerable attention and time) withdrew his LOI
how to more-flexibly craft an LOI
a way to anticipate and prevent some of the most deal-killing actions by sellers
an idea to mitigate the risk of "potential"
some tips to better-prepare for interactions between buyers and sellers.
You, too, are invited to privately communicate with me about what's obstructing or bothering you while trying to buy or sell a business. We can make a podcast out of it, keeping confidential your identity.
---
The only thing you have to lose
is info that can help you
make more money and avoid problems.
---
Praise for this info from business buyers, brokers,
accountants, appraisers, attorneys, consultants,
company owners and sellers:
"Recommended reading for all individuals considering buying a business – before they buy! Ted's advice is pragmatic and comprehensive."
— Tony Brown, Director | Advisor at Divest Merge Acquire, Australia
"Ted, I have really enjoyed your book. I almost bought a business last year, and I can't tell you how glad I am the deal fell through. Your book has taught me so many things that I never thought of."
— Scott Boyette
"After reading the first chapter you will feel enthusiasm for the prospect of having control of your business life, and you may lose any trepidation you may have about diving in."
— Grace Salem, refuge from hi-tech.
"Ted Leverette has definitely seen it all. His book, How to Buy the Right Business the Right Way—Dos, Don'ts & Profit Strategies, gives you the benefit of his many years of experience and wisdom."
— Erin Austin, Esq., Independent General Counsel
"Having been an intermediary for 28 years, I can honestly say that I have never encountered a more thorough presentation than How to Buy the Right Business the Right Way. I plan on recommending it to all my future buyer prospects that I represent through my Buyer's Broker Program."
— Loren Marc Schmerler, President and Founder, Bottom Line Management, Inc.
"I would add one more business buying don't: "Don't buy a business without reading this book."
— Steven Beal (Canada), MBA, CGA, CFA, CBV, CBI, Beal Business Growth Consultants, Inc.
"If the buyers who come to my office read this book first, it will make my job of helping them find a business to buy much easier. I could spend more time matching buyer prospects with businesses we have for sale and less time educating them about the dos and don'ts."
— Jeffrey D. Jones, ASA, CBA, CBI, NACVA, Advanced Business Brokers
"The strategies in this book will allow you to make a great acquisition and keep you from getting a serious case of buyer fever."
— John Martinka, author, Buying a Business That Makes You Rich and If They Can Sell Pet Rocks Why Can't You Sell Your Business (For What You Want)?
"So readable it will appeal even to buyers of small Main Street businesses!"
— Fayaz Karim, BSc, MBA, CPA
"In How to Buy the Right Business the Right Way, Ted Leverette shares the knowledge he and his affiliates have gained in their 500+ years of business buying experience."
— John J. Gallagher, CPA
---
Monthly e-newsletter:
If you like the kind of information you see on our website, please subscribe. We'll also invite you to our Webinars and Podcasts.
Ted Leverette refers prospective clients to advisors, brokers, appraisers and sources of financing who subscribe to his monthly free e-newsletter AND also connect with him on LinkedIn. It's how we get more insight into each other's capabilities.
We do not disclose your email address or any other information about you to anyone outside our company.
Click to subscribe to our monthly e-newsletter.
---
Click to see the scope of our advisory service. You can access some or all of it.
Each "Partner" On-Call Network office and each Business Buyer Advocate consulting practice is independently owned and operated. Business Buyer Advocate ® and "Partner" On-Call ® are registered trademarks of Ted J. Leverette.
Ted J. Leverette
The Original Business Buyer Advocate ®
"Partner" On-Call Network, LLC
---
Get ahead of other buyers competing with you: Searcher and Search Evaluation ™
Hire Business Buyer Advocate Ted Leverette to educate and guide you through our Street-Smart 22-Step Acquisition Sequence ™. It integrates five services essential to buyers: Search, due diligence, financing, valuation and dealmaking. We are not a business brokerage. We do not sell franchises or any kind of business.
---
Improve your search and dealmaking:
Schedule an hour of coaching with Ted Leverette, The Original Business Buyer Advocate ®
Email Ted J. Leverette, The Original Business Buyer Advocate ® Since the 1970s. "Partner" On-Call Network, LLC