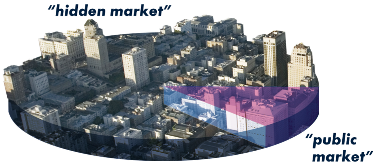 2-Minute Video Reveals What The Savviest Searchers Do
Are you an advisor to buyers or are you trying to buy a small or midsize business?
The hidden market of businesses for sale is where up to 80% of the mature, profitable and fairly priced small and midsize businesses are quietly for sale by-owner.
Few of these owners advertise their business for sale. Some of these winners are not yet on the market, but they and other sellers want to safely meet qualified buyers. Few of these owners will admit they are for sale to buyers they don't know.
This is where Ted Leverette and the other Business Buyer Advocates he's trained come in. Their credibility as trusted matchmakers encourage potential sellers to interact with buyers.
Accessing the hidden market can save you valuable time, and you avoid buyer competition because these businesses are not available to the general public.
Why settle for some of the businesses for sale . . .
when you can access all of them?
The hidden market is where to find unadvertised businesses for sale by-owner (or could be for sale to buyers who properly approach and interact with owners) . . . with less or no competition from other buyers.
Click here to access the gateway and the how-to info you need.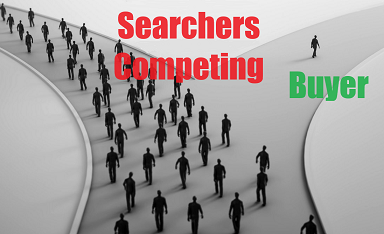 ---
More How-To Info
Here's a link to articles about dealmaking for advisors and brokers, and for people who want to know what professionals know (such as owners, buyers and sellers of small and midsize businesses).
You can learn more listening to our Podcasts & Webinars.
And if you really want to supercharge your dealmaking skills, sign up for our one-on-one private trainings.
---
Is it time for you? Searcher and Search Evaluation ™

Robert Connelly, Business Buyer
It's like fishing with dynamite, thanks to your evaluation and suggestions to refocus and improve my search methodologies.

Terry Morehouse, Business Buyer
Ted, thank you for conducting the Searcher and Search Evaluation on my current efforts. You delivered both strategic and tactical value that will change my search process. Strategically, your explanation of the need to ensure congruity of all parts of my search process was invaluable. I now understand that my search is a multi-targeted marketing campaign. Further, that each tool in my search process and every contact with owners either builds upon the next success or tears down the effort.

Tactically, you delivered practical, but blunt feedback on each of the search steps where I provided information and I appreciate your delivery. I now know what aspects won't work and can make the appropriate changes to match the strategy. Finally, at each step today, you provided insightful commentary that has served as seasoned advice to help me become better informed. Thanks Ted!
---
Monthly e-newsletter:
If you like the kind of information you see on our website, please subscribe. We'll also invite you to our free continuing education events.
We do not disclose your email address or any other information about you to anyone outside our company.
Click to subscribe to our monthly e-newsletter.
---
Get ahead of other buyers competing with you: Searcher and Search Evaluation ™
Hire Business Buyer Advocate Ted Leverette to educate and guide you through our Street-Smart 22-Step Acquisition Sequence ™. It integrates five services essential to buyers: Search, due diligence, financing, valuation and dealmaking. We are not a business brokerage. We do not sell franchises or any kind of business.
---
Improve your search and dealmaking:
Schedule an hour of coaching with Ted Leverette, The Original Business Buyer Advocate ®
Email Ted J. Leverette, The Original Business Buyer Advocate ® Since the 1970s. "Partner" On-Call Network, LLC