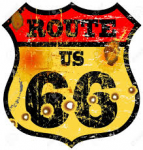 The opportunity that vanished for businesses, towns and people along Route 66 is happening today to tens of thousands of profitable small and midsize companies in the best local economies, thanks to missteps by advisors, business brokers and potential business buyers.
Keep reading for street-smart insight into opportunity lost and how, today, astute people gain competitive advantage while others lose it.
Too many business buyers don't recognize the reality until they own the company, realizing too late they made a dumb deal and perhaps a fatal mistake.
Owners of businesses for sale: Would you like to know about and avoid the most common mistake that gives buyers a cold shoulder?
This risk is embedded in every kind and size of business. It doesn't have to be fatal. But you must find it and learn to control it.
---
Listen & Learn Podcast ™
Ted Leverette's 43 minute podcast. The Fatal Flaw "Killing" Owners and Buyers.mp3

Includes some of the questions and inquiries (and insight into each of them) that owners must ask themselves before offering their company for sale. Potential buyers and their advisors must ask and inquire about 66 questions. Sources of financing can make safer investments or loans if they, too, require sellers and buyers of small and midsize businesses to include the answers in applications for funding.
---
Do you know enough about this?

I checked 9 of the top-selling how-to-buy-a-business books and 2 of the most read how-to books for business appraisers. None of the business buying books cover the fatal flaw. Both of the appraisal books partly cover it, but they miss what can be the most important element. So, if you like reading theory, keep reading those kinds of books. If you prefer reality, keep reading this webpage.
It's the #1 (okay, maybe number two) reason for the failure of so many buyers of SMB. It's also why so many owners can't profitably sell their company. (Which, of course, causes business brokers to waste their time, money and reputation on listings that don't sell.)

I'm referring to two types of failure:
Inability to achieve a done deal.
Inability to sell or profitably sell their company when it's time to get out.
This Podcast is a must for owners and people thinking about buying or starting a business.
Advisors can sharpen their focus.
Sources of financing, if they heed the warnings, can avoid funding losers.
Business brokers can use this insight to slap into reality wishful-thinking sellers who want brokers to work for them hoping for sales commissions that rarely are paid.
---
---
Free monthly e-newsletter:
If you like the kind of information you see on our website, please subscribe. We'll also invite you to our free continuing education events.
Ted Leverette refers prospective clients to advisors, brokers, appraisers and sources of financing who subscribe to his monthly free e-newsletter AND also connect with him on LinkedIn. It's how we get more insight into each other's capabilities.
After you subscribe, you will receive links to our free reports and audios as we produce them.
We do not disclose your email address or any other information about you to anyone outside our company.
Click to subscribe to our monthly e-newsletter.
---
Get ahead of other buyers competing with you: Searcher and Search Evaluation ™
Hire Business Buyer Advocate Ted Leverette to educate and guide you through our Street-Smart 22-Step Acquisition Sequence ™. It integrates five services essential to buyers: Search, due diligence, financing, valuation and dealmaking. We are not a business brokerage. We do not sell franchises or any kind of business.
---
Improve your search and dealmaking:
Schedule an hour of coaching with Ted Leverette, The Original Business Buyer Advocate ®
Email Ted J. Leverette, The Original Business Buyer Advocate ® Since the 1970s. "Partner" On-Call Network, LLC